I haven't posted for a while, I apologise, I have just been busy at Uni.
I have put together a list of books that I have read recently and loved. Hope you find something that looks good.
This isn't in any particular order, just put them in as I remembered them.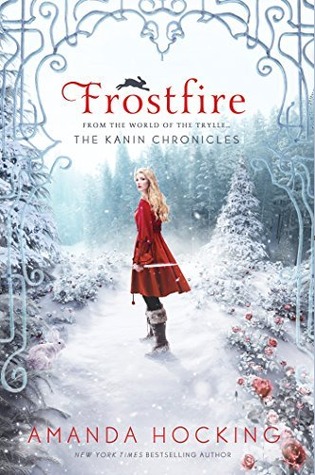 Bryn Aven is an outcast among the Kanin, the most powerful of the troll tribes.
Set apart by her heritage and her past, Bryn is a tracker who's determined to become a respected part of her world. She has just one goal: become a member of the elite King's Guard to protect the royal family. She's not going to let anything stand in her way, not even a forbidden romance with her boss Ridley Dresden.
But all her plans for the future are put on hold when Konstantin– a fallen hero she once loved – begins kidnapping changelings. Bryn is sent in to help stop him, but will she lose her heart in the process?
Dirt poor. Hillbilly. Backwoods hick. Mountain folk.
Tenleigh Falyn struggles each day to survive in a small, poverty-stricken, coal mining town where she lives with her sister and mentally ill mother. Her dream of winning the college scholarship given to one student by the local coal company and escaping the harshness of her life, keeps her going.
Kyland Barrett lives in the hills, too, and has worked tirelessly—through near starvation, through deep loneliness, against all odds—to win the Tyton Coal Scholarship and leave the town that is full of so much pain.
They're both determined not to form any attachments, but one moment changes everything. What happens when only one person gets to win? When only one person gets to leave? And what happens to the one left behind?
Kyland is a story of desperation and hope, loss and sacrifice, pain and forgiveness, but ultimately, a story of deep and unending love.
THIS IS A STAND-ALONE SIGN OF LOVE NOVEL, INSPIRED BY TAURUS. New Adult Contemporary Romance: Due to strong language and sexual content, this book is not intended for readers under the age of 18.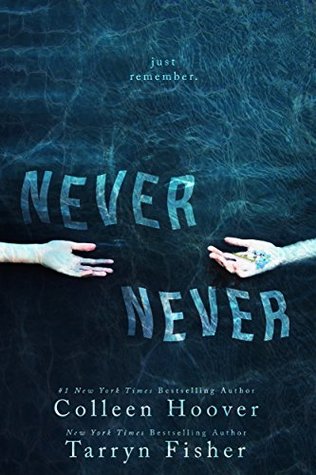 Best friends since they could walk. In love since the age of fourteen.
Complete strangers since this morning.
He'll do anything to remember. She'll do anything to forget.
P.S. This is a proper mind-f***. You have been warned.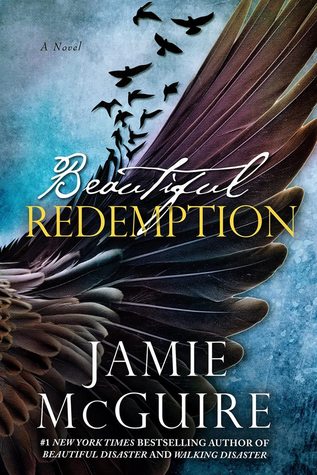 If A Maddox boy falls in love, he loves forever. But what if he didn't love you, first?
No-nonsense Liis Lindy is an agent of the FBI. Deciding she is married only to her job, she breaks off her engagement and transfers from Chicago to the field office in San Diego. She loves her desk. She is committed to her laptop. She dreams of promotions and shaking hands with the director after cracking an impossible case.
Special Agent in Charge Thomas Maddox is arrogant, unforgiving, and ruthless. He is tasked with putting away some of the world's toughest criminals, and he is one of the best the Bureau has to offer. Though, as many lives as he's saved, there is one that is beyond his reach. Younger brother Travis is faced with prison time for his involvement in a basement fire that killed dozens of college students, and the media want a conviction. Travis's only savior is his unusual tie to the mob. In a deal that will spare his brother, Thomas has agreed to recruit Travis into the FBI.
Liis is stubborn, defiant, and yet somehow softens Thomas's rough edges, making her the perfect agent to accompany him to the ceremony. Posing as a couple, they must travel to Travis & Abby's beach vow renewal and give him the news, but when the pretending ends, she finds herself wondering if they were pretending at all.
In the second installment of the Maddox Brothers books, experience firsthand the mysterious world of the elusive Thomas Maddox, and how good love can be when you're not the first, but the last.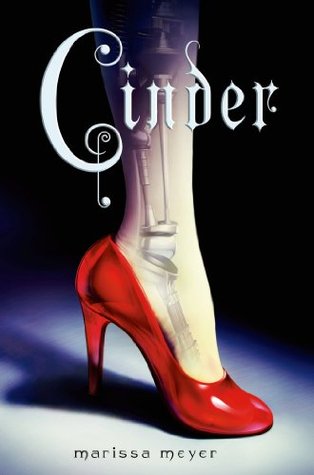 Humans and androids crowd the raucous streets of New Beijing. A deadly plague ravages the population. From space, a ruthless lunar people watch, waiting to make their move. No one knows that Earth's fate hinges on one girl.
Cinder, a gifted mechanic, is a cyborg. She's a second-class citizen with a mysterious past, reviled by her stepmother and blamed for her stepsister's illness. But when her life becomes intertwined with the handsome Prince Kai's, she suddenly finds herself at the center of an intergalactic struggle, and a forbidden attraction. Caught between duty and freedom, loyalty and betrayal, she must uncover secrets about her past in order to protect her world's future.
P.S. I have read all three of the books in the series and they are all amazing. 3rd book is my favourite. Cannot wait for Winter.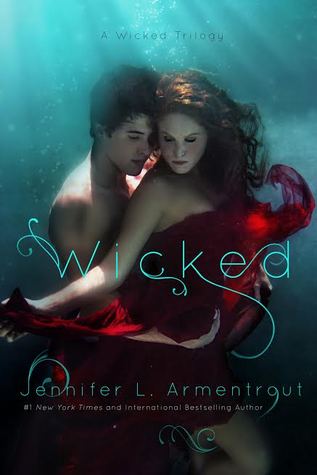 Things are about to get
Wicked
in New Orleans.
Twenty-two year old Ivy Morgan isn't your average college student. She, and others like her, know humans aren't the only thing trolling the French Quarter for fun… and for food. Her duty to the Order is her life. After all, four years ago, she lost
everything
at the hands of the creatures she'd sworn to hunt, tearing her world and her heart apart.
Ren Owens is the last person Ivy expected to enter her rigidly controlled life. He's six feet and three inches of temptation and swoon-inducing charm. With forest-green eyes and a smile that's surely left a stream of broken hearts in its wake, he has an uncanny, almost unnatural ability to make her yearn for everything he has to offer. But letting him in is as dangerous as hunting the cold-blooded killers stalking the streets. Losing the boy she loved once before had nearly destroyed her, but the sparking tension that grows between them becomes impossible for Ivy to deny. Deep down, she wants… she needs more than what her duty demands of her, what her past has shaped for her.
But as Ivy grows closer to Ren, she realizes she's not the only one carrying secrets that could shatter the frail bond between them. There's something he's not telling her, and one thing is for certain. She's no longer sure what is more dangerous to her—the ancient beings threatening to take over the town or the man demanding to lay claim to her heart and her soul.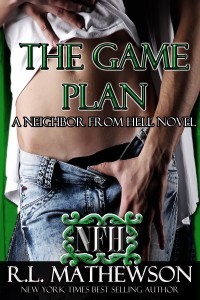 Spend the next 40 years in prison or break her lease early?
Normally she'd be able to say that this one was a no-brainer, but things have definitely changed since she was forced to move in across the hall from Danny Bradford.
A lot of things……
She wanted to get through one day, just ONE day without Danny Bradford doing something to test the limits to her control, but with that damn smile of his and his habit of leaving her contemplating manslaughter, she didn't see that happening anytime soon.
He loved his family, but some days…….
It was too much, but that was okay, because his small neighbor living across the hallway provided him with endless hours of entertainment. Not on purpose of course, but did it really matter as long she made him smile?
The first book in a humorous contemporary romance from New York Times and USA Today bestselling author, Denise Grover Swank.

Megan Vandemeer meant to tell her parents about her broken engagement, but a month and a half later she finds herself boarding a plane home to her wedding. Having stretched avoidance to its limits, it's time to come clean--a terrifying prospect since her mother is sure to blame her rather than her cheating, emotionally frigid ex. A couple of drinks and two Dramamine later, Megan finds herself spilling her sob story to the tall, dark, and handsome stranger in the seat next to her.

With only one week left to save his business, Josh McMillan boards a plane to Kansas City in a last-ditch effort, leaving the details to chance. An unexpected answer is delivered in the form of the beautiful brunette beside him. Though she's completely loopy, her honesty, openness, and humor charm him. So when she passes out before landing, he helps her off the plane--a good deed that leads to a colossal misunderstanding. Her parents assume he's her fiancé. In a twist of fate, the mix-up might help Josh save his business, so he plays along, figuring he can help Megan too. All he has to do is stage a public break up convincing enough to appease her mother.

Josh is only supposed to be a substitute groom, but the more time he and Megan spend together, the more their pretend engagement starts to feel real…and the less they want to break it off. Can a relationship that began as a farce turn into happily ever after?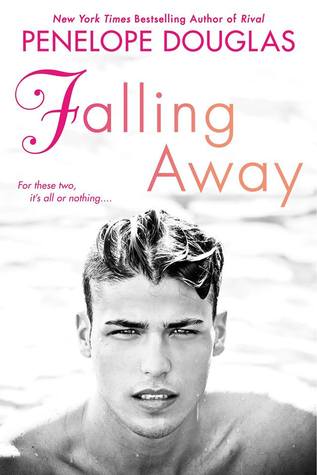 Jaxon is the guy she's supposed to avoid.
K.C. is the girl he won't let get away....
K. C. Carter has always followed the rules—until this year, when a mistake leaves her the talk of her college campus and her carefully arranged life comes crashing to a halt. Now she's stuck in her small hometown for the summer to complete her court-ordered community service, and to make matters worse, trouble is living right next door.
Jaxon Trent is the worst kind of temptation and exactly what K.C. was supposed to stay away from in high school. But he never forgot her. She was the one girl who wouldn't give him the time of day and the only one to ever say no. Fate has brought K.C. back into his life—except what he thought was a great twist of luck turns out to be too close for comfort. As the bond between them grows, he discovers that convincing K.C. to get out from her mother's shadow is hard, but revealing the darkest parts of his soul is nearly impossible.…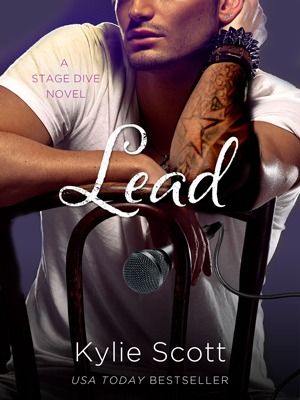 Stay up all night with the sexy rockers in Stage Dive, the epic New Adult series from New York Times bestselling author Kylie Scott, author of Lick and Play.

As the lead singer of Stage Dive, Jimmy is used to getting whatever he wants, whenever he wants it, whether it's booze, drugs, or women. However, when a PR disaster serves as a wake-up call about his life and lands him in rehab, he finds himself with Lena, a new assistant to keep him out of trouble.  
Lena's not willing to take any crap from the sexy rocker and is determined to keep their relationship completely professional, despite their sizzling chemistry. But when Jimmy pushes her too far and Lena leaves, he realizes that he may just have lost the best thing that ever happened to him.
Looking for the perfect mix of smart, sexy, and sassy? Mai Tai'd Up continues New York Times bestselling author Alice Clayton's Cocktail series, which began with Wallbanger and continued with Rusty Nailed and Screwdrivered.
The gossip mill in the seaside community of Monterey is churning about Chloe Patterson, the newcomer who is starting a sanctuary for rescued pit bulls. It's rumored that she's a former beauty queen (true) who ditched her fiancé the morning of their wedding (also true). And that while she's not looking for a new man, the good-looking local veterinarian has his eye on her. Absolutely, positively true.
When Lucas Campbell isn't at the family veterinary clinic, he's paddle boarding in Monterey Bay. Recently single, he's definitely not in the market for a new relationship, but he still can't resist taking a second, third, and fourth look at the recent arrival of Miss Golden State.
Neither Lucas nor Chloe has any interest in being tied down. Being tied up, however—now there's a thought. But are a few Mai Tais, a moonlit night, and the music of Frank Sinatra enough to allow them both to forget their past? Let's hope Ol' Blue Eyes knows what he's doing.
Mix one part tiki, one part kinky, and a splash of old black magic matchmaking, and it's time to be . . . Mai Tai'd Up.
A bombshell bookworm. A chronic Casanova. And a lesson in chemistry too scandalous for school.
When Hanna Bergstrom receives a lecture from her overprotective brother about neglecting her social life and burying herself in grad school, she's determined to tackle his implied assignment: get out, make friends, start dating. And who better to turn her into the sultry siren every man wants than her brother's gorgeous best friend, Will Sumner, venture capitalist and unapologetic playboy?
Will takes risks for a living, but he's skeptical about this challenge of Hanna's…until the wild night his innocently seductive pupil tempts him into bed- and teaches him a thing or two about being with a woman he can't forget. Now that Hanna's discovered the power of her own sex appeal, it's up to Will to prove he's the only man she'll ever need.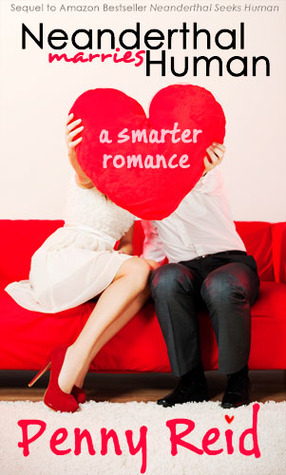 There are three things you should know about Quinn Sullivan: 1) He is madly in love with Janie Morris, 2) He's not above playing dirty to get what (or who) he wants, and 3) He doesn't know how to knit.
After just five months of dating Janie, Quinn—former Wendell and unapologetic autocrat—is ready to propose marriage. In fact, he's more than ready. If it were up to Quinn, he would efficiently propose, marry, and beget Janie with child all in the same day—thereby avoiding the drama and angst that accompanies the four stages of pre-matrimony: engagement, meeting the parents, bachelor/bachelorette party, and overblown, superfluous wedding day traditions. But Janie, much to Quinn's dismay, tosses a wrench in his efficacious endeavors and challenges him to prove his devotion by going through the matrimonial motions, no matter how minute and mundane.
Will Quinn last until the wedding day? Or will he yield to his tyrant impulses?
Regardless, one thing is for certain, Quinn Sullivan will have to learn to expect the Spanish Inquisition (i.e. the unexpected) if he plans to have and keep Janie Morris as his wife.
This book is not a standalone. It is the sequel to 'Neanderthal Seeks Human,' it is book #1.5 in the 'Knitting in the City' series, and it is a full length, 100k word novel.

Again, you must read 'Neanderthal Seeks Human' first before reading this book.

This book is written in first person, alternating POV (Janie Morris AND Quinn Sullivan; but more Janie than Quinn)
Flirting with the Grave...
Half-vampire Catherine Crawfield is going after the undead with a vengeance, hoping that one of these deadbeats is her father - the one responsible for ruining her mother's life. Then she's captured by Bones, a vampire bounty hunter, and is forced into an unholy partnership.
In exchange for finding her father, Cat agrees to train with the sexy night stalker until her battle reflexes are as sharp as his fangs. She's amazed she doesn't end up as his dinner - are there actually good vampires? Pretty soon Bones will have her convinced that being half-dead doesn't have to be all bad. But before she can enjoy her newfound status as kick-ass demon hunter, Cat and Bones are pursued by a group of killers. Now Cat will have to choose a side . . . and Bones is turning out to be as tempting as any man with a heartbeat.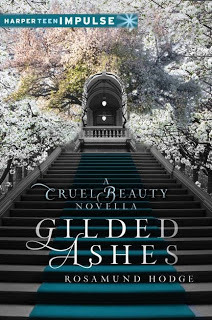 A romantic and fantastical reimagining of the classic Cinderella tale,
Gilded Ashes
is a novella by Rosamund Hodge set in the same world as the author's debut novel,
Cruel Beauty
.
Orphan Maia doesn't see the point of love when it only brings pain: Her dying mother made a bargain with the evil, all-powerful ruler of their world that anyone who hurt her beloved daughter would be punished; her new stepmother went mad with grief when Maia's father died; and her stepsisters are desperate for their mother's approval, yet she always spurns them. And though her family has turned her into a despised servant, Maia must always pretend to be happy, or else they'll all be struck dead by the curse.
Anax, heir to the Duke of Sardis, doesn't believe in love either—not since he discovered that his childhood sweetheart was only using him for his noble title. What's the point of pretending to fall in love with a girl just so she'll pretend to fall in love with him back? But when his father invites all the suitable girls in the kingdom to a masked ball, Anax must finally give in and select a wife.
As fate would have it, the preparations for the masquerade bring him Maia, who was asked by her eldest stepsister to deliver letters to Anax. Despite a prickly first encounter, he is charmed and intrigued by this mysterious girl who doesn't believe in love. Anax can't help wishing to see her again—and when he does, he can't help falling in love with her. Against her will, Maia starts to fall in love with him too. But how can she be with him when every moment his life is in danger from her mother's deadly bargain?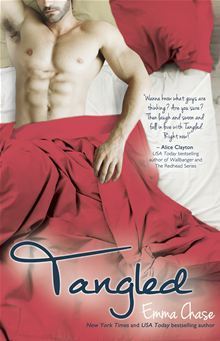 Drew Evans is a winner. Handsome and arrogant, he makes multimillion dollar business deals and seduces New York's most beautiful women with just a smile. He has loyal friends and an indulgent family. So why has he been shuttered in his apartment for seven days, miserable and depressed?
He'll tell you he has the flu.
But we all know that's not really true.
Katherine Brooks is brilliant, beautiful and ambitious. She refuses to let anything - or anyone - derail her path to success. When Kate is hired as the new associate at Drew's father's investment banking firm, every aspect of the dashing playboy's life is thrown into a tailspin. The professional competition she brings is unnerving, his attraction to her is distracting, his failure to entice her into his bed is exasperating.
Then, just when Drew is on the cusp of having everything he wants, his overblown confidence threatens to ruin it all. Will he be able untangle his feelings of lust and tenderness, frustration and fulfillment? Will he rise to the most important challenge of his life?
Can Drew Evans win at love?
Tangled is not your mother's romance novel. It is an outrageous, passionate, witty narrative about a man who knows a lot about women…just not as much as he thinks he knows. As he tells his story, Drew learns the one thing he never wanted in life, is the only thing he can't live without.
P.S. I just had to add this one because Drew...just Drew.
That is it. All lot of these books are series book, a few can be read as stand-alones. I just prefer series books because I get to know the characters a lot better and I just get more from them. All the series that I have listed, should be read in order, even if they are companion novels, because you meet the characters from the other books and you may read some spoilers.