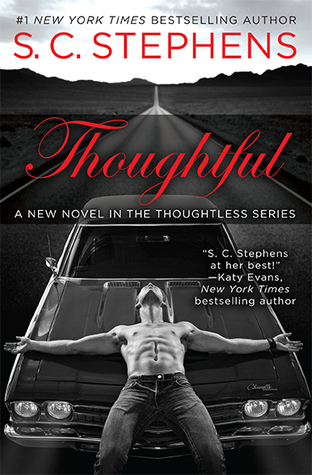 new novel in the Thoughtless series from #1 New York Timesbestselling author S. C. Stephens!
Every story has two sides, and in this new book, the epic love story between Kiera and Kellan is shown through his eyes.
All Kellan Kyle needs is his guitar, and some clean sheets of paper. Growing up in a house that was far from a home, he learned a hard lesson:
You're worthless
. Now his life is comfortably filled with passionate music, loyal band mates, and fast women...until he meets
her.
Kiera makes him ache for more. Makes him feel for the first time that
he's
worth more. But there's one problem - she's his best friend's girl.
Just when Kellan thought his emotional defenses were rock solid, Kiera's indecisive heart wreaks havoc on his soul, changing him forever. Losing Kiera is not an option.
When I found out I got approved for an Arc for this book, I may or may not have done a happy dance.
The Thoughtless series is a bit like Marmite. You either love it or you hate it. I definitely love it. This book was no different. It follows the male protagonist of the three previous Thoughtless books, Kellan Kyle. Sigh. So so dreamy.
We get to see the inner workings of Kellan, and honestly, it made the first book make a lot more sense. A few times through Thoughtless, I was very confused as to why he acted the way that he did, this book made it all make sense. I may not have liked the explanation, but it definitely made sense.
Just like with Kiera, Kellan's thought process was at times annoying and you just want to shake them both and say "STOP BEING SO STUPID AND JUST KISS!" I mainly just wanted to give Kellan a hug and say "I LOVE YOU!" as I'm sure most of you do too.
There was only one thing that truly caught me off guard, and that was Kellan's thought process after Kiera went back with Denny, multiple times. The language may offend a few people, so if you are easily offended, then this is not the book for you. I very nearly stopped reading the book, but the more I thought about it, the more I realised that we all think like that at times. We all have thoughts that are so offensive, we shock ourselves. It doesn't make it right, but we're human and it happens all the time. It made me love S.C. Stephen just a little bit more because it is refreshing. We don't really read things like that, unless its the bad guy speaking.
That was really my main problem, that wasn't much of a problem the more I thought about it.
Please read this. A definite recommendation.
5/5 stars.